I actually read all of these over the course of February, but I think I can cover them in one post.
This series is basically the story of civil rights in the US from the perspective of John Lewis. The story is framed by his interactions with President Obama as Obama is inaugurated.
I'm gonna say something a little heretical about these books. Although they're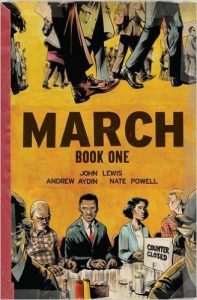 excellent, for me they were somewhat victims of their hype. As a graphic way to tell John Lewis' version of events, they were quite good, but at times, the story felt mildly disjointed. Some of this is, I presume, because the subject matter is just John Lewis recollecting things. But, I would've liked to see it organized in a way that carried the emotional arc more. I know this is asking a lot of a memoir, but compare it to, for example, Maus by Spiegelman. The latter is also a true story, and also a memoir of sorts, but every moment seems to be there for a reason.
One way in which the books are similar, yet different, is the use of framing devices. In Maus, it's the son of the Shoah survivor's attempt to make sense of himself and his relationship to his parents. I found it very strong, in part because it's non-obvious – the father and son spend most of their time together fighting. It results in a beautifully nuanced character. The framing device in March is a bit more obvious and sentimental, and it's not clear to me what it adds artistically.
That said, it's still a fine series, and a great addition to your graphic novel collection. For me, it was kind of like Persepolis – great stuff, but it was missing that deeper note that the author seemed capable of.
March, books 1, 2, and 3 (Lewis)