What a weird and fascinating memoir. Basically, while the British held him after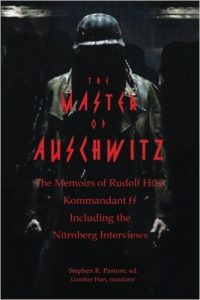 the war, Höss wrote out a memoir, a few short documents, and some letters. They are collected in this book, which through its strangeness becomes a sort of lesson in evil. It is remarkable how utterly banal much of his descriptions of Auschwitz are. Much of his writing dwells on what are basically HR problems, having to do with lazy employees or employees who did a good job but created a bad work environment.
When the methods of mass murder are described, they are done in a remarkably clinical manner, almost as if he's describing any sort of factory equipment, in terms of its efficiency and effectiveness.
There's also a sense of incompleteness borne of inconsistency here. At times Höss seems prepared to apologize and admit he lost his way. At other times, he reaffirms his commitment to national socialism, or makes comments about how dangerous Jews are. He also, perhaps most inexplicably, complains about the bad treatment he felt he was receiving as a prisoner.
Definitely worth reading, as it is a sort of window into a particular form of deranged compartmentalization.
The Master of Auschwitz (Höss, ed. Pastore)